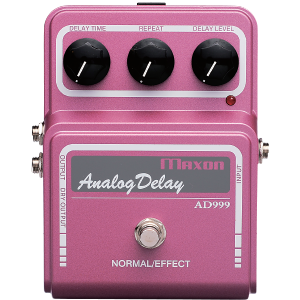 100% Analog Delay with 900 mS delay time
Gorgeous, warm, organic delay tone
Dynamic distortion on Delay repeats
Capable of self-oscillation effects
Custom Maxon MC4107D Bucket Brigade IC's
Stereo (wet/dry) outputs
True Bypass Switching
*Please note: Maxon has discontinued the AC210 AC Adapter. Due to this, the Maxon Vintage series pedals will no longer ship with power supply included.  The Maxon Vintage Series Pedals can be run with a standard 9vdc Center Negative Adapter.  We recommend the PA-9 Power-All ECO-Dapter.
The AD999's Delay tone is pure analog heaven – rich, round and three-dimensional, it reacts to your playing and breathes life into your performance.
The AD999 is loaded with eight custom Bucket Brigade IC's for 900 milliseconds of warm, organic analog tone.  These BBD's are clocked extremely low to achieve the longest delay time possible, creating a HUGE delay tone that recalls early 70's Pink Floyd with stunning accuracy.
Yet the real magic of the AD999 is in the Delay repeats – they exhibit a slightly overdriven tonality that sits perfectly behind dirty tones and adds depth and dimension to clean sounds.  This distortion reacts dynamically to your pick attack, making the initial repeat pop slightly while the remaining repeats blend seamlessly with your original notes.
The repeats also feature a slight EQ spike at around 1.5 kHz, preventing them from getting muddy or non-descript.  This also allows the AD999 to maintain presence in a mix without having to raise your volume.
While there are more affordable and more feature-laden Delays out there, you'd be hard-pressed to find one that sounds better than the AD999.  When players wax poetic about the mojo and mystery of analog delay – THIS is what they are talking about.
TECH TALK:
A high impedance input buffer passes signal to a Compander stage that acts as a compressor/expander, bringing the input signal up to an ideal level and keeping it there as it decays.  This is good for signal-to- noise ratio and also gives the delay chips a clean, strong signal to work with.
The eight x Maxon MC4107D BBD delay IC's are controlled by 2 of the 3 clock drivers in the pedal. These drivers are running the BBDs at a very low clock rate to achieve maximum delay time.  This rolls off a fair amount of high frequencies, giving the AD999 its big, warm delay sound.
The delayed signal hits another Compander to level everything out and then goes to a mixer/amplifier that blends the clean and delayed signals and provides a low impedance output.
The AD999 features Mechanical True Bypass switching on both outputs via a Fujisoku 4PDT switch.
Input Impedance: 500K Ohms
Output Impedance: 10K Ohms or less
Residual Noise: -95 dB (input shorted, IHF-A weighted)
Delay Time: 40 mSec 900 mSec
Control: Delay Time, Repeat, Delay Level
Switch: Normal/Effect (4PDT mechanical true bypass)
I/O: Input, Output (Mix in mono, Wet only in stereo), Dry Output
Current Consumption: 46 mA at 9VDC / 48 mA at 10VDC
Dimensions: 117 (W) x 150 (D) x 60 (H) mm
Weight: 600 Grams
* All specifications are subject to change for improvement without notice or obligation.  All brand names and product names are trademarks or registered trademarks of their respective companies.  All Maxon information current as of 2020.