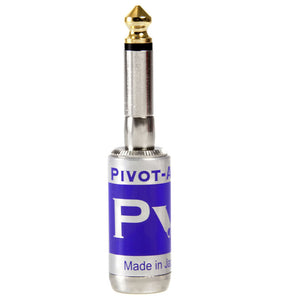 The PV-C STRAIGHT PLUG WITH COMPRESSION SLEEVE is a non-pivoting, straight 1/4" plug with a Compression Sleeve to assure maximum contact efficiency.
Other manufacturers' compression technology only makes minimal contact at tiny points around the plug.
The PV-C compression sleeve makes full contact around the entire circumference of the plug, assuring a tight yet comfortable fit that reduces accidental pull-out by as much as 10%, yet won't damage the input jack.
This superior connectivity will also improve signal transmission and tone quality by as much as 5%.
Pivot-All plugs feature a gold-plated tip for the best transfer of signal; a locking clamp mechanism to securely hold the connector cable; and a heat-resistant insulator around the hot connection to prevent damage from soldering.  Please note that this listing is for an individual plug, which must be soldered to a cable.  If you'd like us to make the cable in our professional facilities, then please take a moment to browse and select the correct length/configuration here. 
If you have any questions, or need a custom quote, please email us directly.
Pivot-All plugs are made in Japan from the highest quality materials available.
NOTE:  PV-C plugs must be soldered to a cable - They cannot be connected to an existing straight plug.