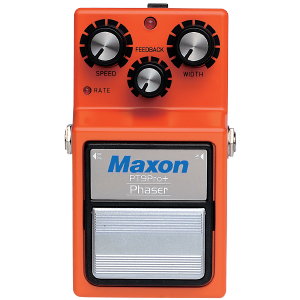 ***Discontinued*** 
Optical Phase Shifter ala' Mu-Tron Phaser II/Shin-Ei Uni-Vibe
Wet, drippy, 3-dimensional phasing sound
18-volt operation for more headroom and wider frequency response
Works well pre- or post-distortion for increased tonal options
Works in FX loop or front-end of amp
Rate LED displays oscillator speed
True Bypass Switching
Works great on Bass!
The original 1980's PT-9 Phaser was a great pedal, but a little known fact is that Maxon also offered a different version of that model that was only sold in Japan under the Maxon brand – dubbed the PT-9 Pro, this silver-boxed rarity featured optical circuitry for a lush, drippy, 3D phasing effect similar to vintage units such as the Mu-Tron Phaser II and the Shin-Ei Uni-Vibe.
The PT-9 Pro+ Phaser takes this ultra-rare version of the PT-9 and adds a voltage-doubling IC to offer massive headroom and an improved frequency response, yielding fat, full-bodied phasing with incredible clarity and transparency.
Gone are the wispy, distorted sweeps of FET phasers; replaced instead by a rich, throaty phasing that's incredibly lush and dramatic yet still retains your original guitar tone in all its resplendent glory.
The PT-9's wide-range LFO offers up everything from lethargic climbs to Rotary Speaker shimmers.  At low Width/Feedback settings the Pro+ can imitate the classic Small Stones and Phase 90's with ease.  Crank the Width for a chewy, vocal filtering that accentuates note harmonics and breathes life into solo passages.  Blend in the Feedback to add subtle yet sublime character or dime it for radical chirps, whistles and clangs bordering on ring-modulation.
The wide operational range of the PT-9 allows it to work in an effects loop or with extended range instruments such as Bass Guitar.  The Pro+ also works equally well pre- or post-distortion, opening up an entirely new range of tonal possibilities that are unattainable with a traditional phaser.
The wettest, most lush phase shifting you're gonna find this side of the 70's…
TECH TALK:
The PT-9 Pro+ circuit begins with an Op Amp buffer, then the signal is split (chain 1 goes into effect; chain 2 is recombined with affected signal before output buffer).  The phase shifting section uses 6 stages, similar in design to the MXR Phase 100. The phasing is accomplished through parallel resistors and capacitors between the phasing section Op Amps (one for each stage).
The LFO sine wave signal is accomplished by another pair of Op Amps and is controlled with the Speed and Depth controls. The LFO interfaces with the phase shift stages through optocouplers (photo cells) that control the frequency emphasis of the phase shift stages. After the phase shift stages the Feedback potentiometer controls the amount of phased signal injected back into the circuit before the phase shift stages, affecting the emphasis of the phase in a similar manner to a "Q" control.
After the phase shift stages the affected signal is mixed with the signal from the Op Amp buffer from the beginning of the circuit and goes into an output amplifier that provides low impedance out.
The pedal also utilizes a, NJM2374A voltage conversion chip that changes the 9V power input into 9V+ and 9V-, increasing the headroom of the Op Amps and cleaning up the sweep of the phase.
The PT-9 Pro features Mechanical True Bypass switching via a Fujisoku 4PDT switch - Input is switched to ground when bypassed.
NOTE ON POWERING THE PT-9 Pro+ - this pedal's voltage regulator IC requires a high inrush current of approximately 2000 mA upon startup.  When using with a Power Brick such as the Voodoo Labs Pedal Power 2+, this pedal should be connected to a high current power jack when possible.
If it is not possible to connect to a high current jack, you can power the PT-9 Pro+ by leaving a battery in the pedal.  Upon initial start-up, unplug the external DC power input cable, engage the pedal, and then plug the DC power input cable back in – the pedal will now power up normally off the external power supply until you power down your pedalboard.
Input Impedance: 500K Ohms
Input Jack: 1/4 inch standard phone jack
Output Impedance: 10K Ohms or less
Output Jack: 1/4 inch standard phone jack
Output: 1
Switch: Normal/Effect (true bypass configuration)
Maximum Output Level: +18 dBu (1 KHz)
Controls:
SPEED: .055 TO 8.3 Hz (18 Sec to 120 mSec)
FEEDBACK
WIDTH
Residual Noise : 95 dBu (input shorted, IHF-A weighted)
Indicator: Normal/Effect LED, RATE LED
Internal Circuit Voltage: Stabilized +/-9V DC-DC converter
Power Supply: 9V Manganese dry cell battery (6F22) or special AC adaptor
Power Voltage: DC9 V (Battery) / DC10 V (AC-adaptor)
Current Consumption: 32 mA (9 V) / 30 mA (10 V) at 18 volts
Battery Life:
Panasonic NEO battery 6F22NB
Approximately 3 Hours @ 77 deg F / 25 Deg C
Panasonic Alkaline battery 6LF61G
Approximately 8.4 hours @ 77 deg F / 25 deg C
AC Adaptor: AC210N (option) Input: AC120V Output: DC9V/200 mA Center - / Sleeve +)
Dimensions (whole): 74 mm (W) x 124 mm (D) x 54 mm (H)
Weight: 580 g
Accessories: 9V Manganese dry cell battery (S-006P) x 1
Warranty Card: x 1
User's Manual: x 1
* All specifications are subject to change for improvement without notice or obligation.All brand names and product names are trademarks or registered trademarks of their respective companies.