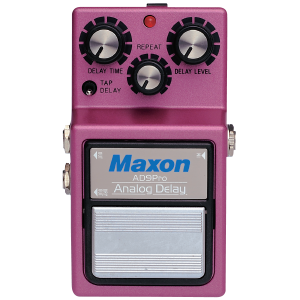 100% Analog Delay with 450 mS delay time
Gorgeous, warm, organic delay tone
Special filtering on repeats to reduce distortion
Multi-Tap switch for "beat-split" effects
Capable of Self-oscillation effects
Stereo (wet/dry) outputs
Works in FX loop or front-end of amp
True Bypass Switching
The new AD-9 Pro model improves on one of Maxon's most coveted models in order to produce the best-sounding, most reliable analog delay ever. Featuring 4 of Maxon's proprietary MC4107D bucket brigade IC's, and the world's first RMS level sensor and companding noise reduction system, the AD-9 Pro delivers 450 millseconds of the most transparent analog delay sound ever available in a stompbox format.
Offering improved headroom, the AD-9 Pro can accept any input signal and will work in an amplifier's effects loop as well as its front-end.
The AD-9 Pro also features a switchable multi-head tape echo simulator function. This feature provides interesting new delay effects such as the "Ping Pong" repeats made famous by Tape Echo units as well as ambient effects that recreate the echoes of a large concert hall with stunning accuracy.
AD-9 Pro is outfitted with mechanical true bypass switching on both wet and dry outputs by use of a 4PDT switch assuring pure, unaltered tone when bypassed.
In a world that grows more "digital" by the day, the Maxon AD-9 Pro sets a new standard of analog innovation and audio purity.
"If you want a delay pedal with rich tone and a ton of vibe get a Maxon AD-9 Pro! I love the ability to switch from single to dual head delay modes." - Devin Bronson – Guitarist with Avril Lavigne
"Maxon pedals are just simply amazing. Thanks for making pedals that just sound great, all the fucking time!" - Tyler Connolly - Theory of a Deadman
TECH TALK:
The AD-9 Pro starts with a string of low gain, low voltage op amps designed to boost the signal and shape the sound without adding distortion.  Signal then passes to a THAT4315s Compander - a precision low voltage, low noise Compander IC designed to boost signal while killing any noise.  This IC brings the input signal up to an ideal level and keeps it there as notes decay.  This is good for signal-to- noise ratio and also gives the delay chips a clean, strong signal to work with.
The 4 x Maxon MC4107D BBD delay IC's are controlled by two clock driver IC's. The driver is running the BBDs at a very low clock rate to achieve maximum delay time.  This rolls off a fair amount of high frequencies, giving the AD-9 a big, warm delay sound.
The delay circuit has a switchable tap that grabs midstream delayed signal and adds it back in with the main delay signal. This setup is very reminiscent of the multi-head feature on vintage tape echoes (Roland Space Echo, etc.).
Both the tapped and untapped signals are sent through their own sets of filtering op amps (3 apiece) which help get rid of clock noise and hiss. Then the signal is sent through another THAT4315s Compander chip and into a mixing Op Amp (where the clean signal is mixed with the delay) and out.
The AD-9 Pro features Mechanical True Bypass switching on both outputs via a Fujisoku 4PDT switch.
NOTE ON POWERING THE AD-9 Pro - this pedal's voltage regulator IC requires a high inrush current of approximately 2000 mA upon startup.  When using with a Power Brick such as the Voodoo Labs Pedal Power 2+, this pedal should be connected to a high current power jack when possible.
If it is not possible to connect to a high current jack, you can power the AD-9 Pro by leaving a battery in the pedal.  Upon initial start-up, unplug the external DC power input cable, engage the pedal, and then plug the DC power input cable back in – the pedal will now power up normally off the external power supply until you power down your pedalboard.  
Input Impedance: 500K Ohms
Output Impedance: 10K Ohms
Residual Noise: -100 dB or less (IHF-A)
Delay Time: 20 mSec to 450 mSec
Equivalent Input Noise: 116 dB or less (IHF-A)
Controls: Delay Time, Feedback, Delay Level
Switch: Single/Dual Mode, Effect
Operating Voltage: 9V
Power Consumption: DELAY TIME MIN 39mA/DC.9V 38mA/DC.10V
Dimensions: 74 mm (W) x 124 mm (D) x 54 mm (H)
Weight: 80 grams (including battery)
Battery: 9V battery (6LR61 or 6F22) x 1 or Maxon AC adaptor
Battery Life: Manganese dry battery more than 2 hours 25deg C / 77deg F (Panasonic 6F22NB) Alkaline dry battery more than 8 hours 25deg C / 77deg F (Panasonic 6LR61G)
Option: Maxon AC adaptor (Maxon AC210N for North America)
* All specifications are subject to change for improvement without notice or obligation.All brand names and product names are trademarks or registered trademarks of their respective companies.