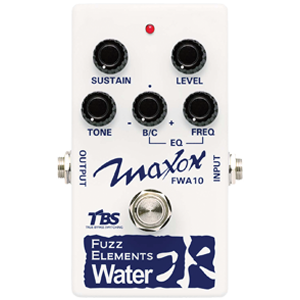 Fuzz engine designed to emulate early 70's Ram's Head Big Muff
Warm, wooly transistor distortion
Amazingly long sustain with note "sag"
Sustain, Tone, and Level controls
Parametric Tone circuit with Frequency and Cut/Boost controls
Unlimited variety of tonal options from scooped midrange to full frequency boost
Mechanical True Bypass Switching
Reproducing the sounds of the EH Big Muff has become a cottage industry within this cottage industry of effect building. Yet with dozens of circuit variations and wildly inconstant component selections, it's virtually impossible to cite any one particular Big Muff incarnation as the most desirable version to pay homage to.
The FWA10 Water narrows the playing field by taking the authentic Ram's Head replication of the Fuzz Elements Earth and adding a parametric EQ circuit to the mix.
Water's powerful parametric equalizer covers a massive frequency range from a punchy 100 Hz to ear-splitting 5 kHz. Select a frequency and then boost or cut to tweak your tone with pinpoint accuracy.
By manipulating Water's EQ, the user can dial in the entire palette of Big Muff variations, from the more mid-heavy, musical snarl of the original Triangle-Knob Muff to the harmonically-rich sustain of the Ram's Head all the way through to the super-compressed, scooped-mid mayhem of the Green Russian Sovtek's.
The FWA10 Water: Why settle for one Muff, when you can have them all?
TECH TALK:
The FWA10 features mechanical true bypass switching, Effect LED Indicator, and 9-Volt DC Battery or external adaptor operation.