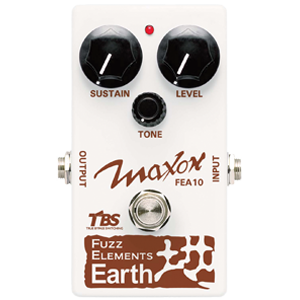 Fuzz engine designed to emulate early 70's Ram's Head Big Muff Pi
Warm, wooly transistor distortion with a prominent mid-scoop
Amazingly long sustain with note "sag"
Sustain, Tone, and Level controls
Mechanical True Bypass Switching
David Gilmour's go-to dirt box, the EH Ram's Head Big Muff helped to define classic rock guitar tone in the 1970's.
The FEA10 Fuzz Elements Earth captures all the grit, grind & girth of that fuzzy fiend in a pedalboard-friendly format that's a fraction of the cost of an original Ram's Head.
Aptly named, Earth is simply massive sounding, with a fat, tight bottom; harmonically rich yet warm top-end; and the subtle yet sublime "sag" that allows notes to smoothly blossom into rapturous, singing sustain.
Like an original Ram's Head, there's simply not a bad sound to be found in this pedal at any control setting – there are merely variations of awesome.
The FEA10's tone was "modeled" on a handful of the best-sounding Ram's Heads from a variety of studios & vintage guitar shops around Tokyo. It could take you years and cost you thousands to seek out vintage units with this level of sound quality and consistency.
Maxon has done the leg work, now all you need to do is plug into Earth and rock!
TECH TALK:
The FEA10 features mechanical true bypass switching, Effect LED Indicator, and 9-Volt DC Battery or external adaptor operation.