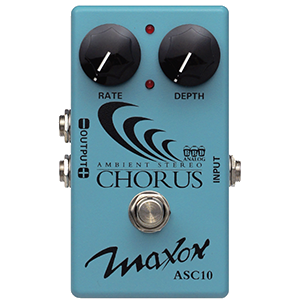 ASC10 AMBIENT STEREO CHORUS
Classic analog chorus circuit
Wide stereo split sounds like 2 guitars playing at once
Rate and Depth controls with extended operation range
Stereo outputs
Works in FX loop or front-end of amp
Buffered Bypass switching with low impedance output
The ASC10's compact enclosure and simple control interface belie its versatile operation and massive, spacious sound.
The ASC10's chorusing effect is set especially wide in the stereo spectrum, offering a lush tonality that actually sounds like two guitars playing at once.
The extended operation range of the Rate and Depth controls conjure up everything from gorgeous 12-string simulations to punch-drunk rotary speaker spins.
Stunning on clean sounds and aggressive on distorted tones, the ASC10 is equally at home in the front-end or the FX loop of an amp.
Dual, phase-inverted outputs allow for panning of the ASC10's effect between two amps or tracks, or run mono from output B for a more dramatic chorus effect.
TECH TALK:
The ASC10 features a low-impedance buffered bypass, allowing it to drive long cable lengths or other effect units without loss of signal.
Input Impedance: 500K Ohms
Output Impedance: 10K Ohms
Controls: RATE, DEPTH
Switch: Bypass/Effect
Indicator: Bypass/Effect LED, RATE LED
Maximum Input Level: 4dB (400Hz)
Equivalent Input Noise: -100dBu or less (Input shorted, IHF-A weighted)
Delay Time: 4.6mSec to 7.6mSec
Rate Frequency: 0.33Hz to 8Hz
Power Supply: 6F22/6LF22 9V battery x 1 or Maxon AC adaptor
Power Consumption: 20mA max. / 9VDC
Battery Life:
9VDC manganese battery 15 hours 25 deg C (FUJITSU 6F22)
9VDC alkaline battery 30 hours 25 deg C (TOSHIBA 6LF22)
Dimensions (whole): 70(W) x 113(D) x 56(H)mm (with protrusion)
Weight: Approx. 290g (incl. battery)
Accessory: 6F22 9V battery x 1, operating manual* 0dB = 0.775Vrms
* All specifications are subject to change for improvement without notice or obligation.  All brand names and product names are trademarks or registered trademarks of their respective companies.  All Maxon information current as of 2020.