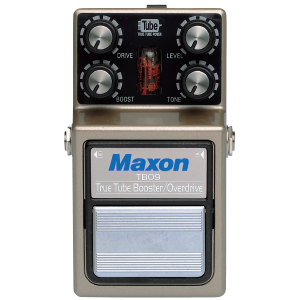 Clean Booster/Overdrive pedal with Tube gain stage
Employs mil-spec sub-miniature vacuum tube
Great as a tube amp booster to add warmth
Boost knob controls level of tube gain
Dual-purpose Drive control with clean blend function
Internal voltage regulator runs 30 Volts to tube
Heater In-rush current control warms tube upon power-up
True Bypass Switching
The TBO-9 combines Clean Boost and Overdrive capabilities with a tube gain stage to create a versatile tone-shaping tool.
The ideal complement to non-master volume tube amps, the TBO allows you to drive a clean or semi-clean amp to the breaking point, giving it that "on 10" tonality at a much lower volume level and without altering the amp's signature tone.
The TBO-9's tube stage is controlled by the Boost knob which adds a fat, warm bottom end with a slight mid bump as it increases the output level.
The Drive knob blends clean and distorted signals, allowing the user to dial in a small amount of grit with minimal coloration.
The TBO-9 features internal voltage doublers that bump the incoming 9 VDC up to 30 VDC for massive headroom and maximum transparency.  
When you need to drive your amp without driving the audience towards the door, the TBO-9 does the job without commanding the center stage.
The TBO-9 is the perfect complement to non-master volume tube amps, boosting level and drive while retaining maximum transparency.
TECH TALK:
The basic TBO-9 circuit architecture is very similar to the Maxon OD820, including the dual-function Drive pot that blends clean and dirty signals while increasing saturation.
The circuit starts with a tube gain stage featuring a mil-spec 5703WB JAN Raytheon sub-miniature vacuum tube positioned at the front of the audio path.  This tube stage does not provide any distortion, with the exception of overdriving the input of the clipping op amp.
After the tube gain stage, the TBO's secondary gain section features a dual-stage clipping design that combines the classic "808" clipping (diodes in feedback loop) with a pair of diodes to ground ala' the SD-9 and RAT.  This design effectively clips the signal twice, and the round smooth clipping of the feedback loop followed by the edgier diodes to ground adds a slight "chewiness" to the pedal's overdrive voice.
The TBO-9 features internal voltage doublers that bump the incoming 9 VDC up to 30 VDC for stable tone with massive headroom and zero harmonic distortion.
The TBO also features Maxon's In-Rush Current Control system - As soon as power is applied to the pedal, a small current is applied to the tube and begins heating it at a very low voltage (much like a tube amp standby switch) - This system dramatically extends the tube life.
The TBO-9 features Mechanical True Bypass switching via a Fujisoku 4PDT switch.
NOTE ON POWERING THE TBO-9 - this pedal's voltage regulator IC requires a high inrush current of approximately 2000 mA upon startup.  When using with a Power Brick such as the Voodoo Labs Pedal Power 2+, this pedal should be connected to a high current power jack when possible.
Input Impedance: 500K Ohms
Output Impedance: 10K Ohms or less
Maximum Gain: 52 dB (1.6 KHz)
Equivalent Input Noise: -110 dB or less (IHF-A)
Control: BOOST, DRIVE, TONE, LEVELSwitch: BYPASS/EFFECT (mechanical TBS)
In/Out: INPUT, OUTPUT, INVERSE OUTPUT
Indicator: BYPASS/EFFECT LEDInternal Circuit Voltage: 30 VDC (DC-DC Converter)
Current Consumption: 270 mA / 9 VDC
Dimensions: 74 mm (W) x 124 mm (D) x 54 mm (H) / 2.9" (W) x 4.9" (D) x 2.13" (H)
Weight: 560 g (excluding AC adaptor) / 19.75 Oz.
Power Supply: Maxon AC2009 (no battery operation)
Accessory: Maxon AC2009
Option: Adaptor type (for foreign countries)
* All specifications are subject to change for improvement without notice or obligation.All brand names and product names are trademarks or registered trademarks of their respective companies.