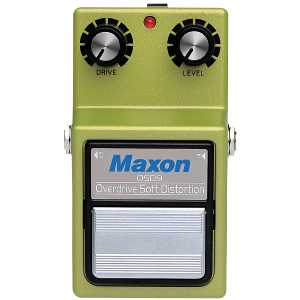 Reissue of Maxon's first Overdrive - OD880 - circa 1977
Low gain, natural overdrive like a tube amp
Works great as an amp booster
Stack with other OD's for increased tonal options
NOS UA741 Op Amps for authentic vintage tone
Regulated 9 VDC power
True Bypass Switching
In 1977 Maxon released their first effect pedal - the OD880 Overdrive/Soft Distortion – and the world would never be the same.
Employing a passive distortion circuit based around the 741 Op Amp (also used in the popular DOD 250), the OD880 was coveted for its warm and natural overdrive tone. The 880 was perfect for use as a transparent booster to take a tube-amp over the edge, offering singing blues tones unrivaled by other boxes.
Japanese guitar legend Char made the OD880 famous as his booster-of-choice, causing original versions to skyrocket into the $600 range on the vintage market.
In the early 90's Maxon reissued a limited edition run of the OD880.  Yet with no distribution outside of Japan, this model went largely unnoticed by the rest of the world, leaving its amazing tone a secret to all save the discerning collector.
Now Maxon has once again resurrected the OD880 in the form of the OSD-9 Overdrive/Soft Distortion.
The OSD-9 offers a warm, open-sounding overdrive with a mild high-end roll off.  It reacts smoothly to input level changes, offering a highly interactive response to player dynamics.  Perfect as a stand-alone dirt box or for pushing an amp, the OSD-9 can also be stacked with other OD's to add clarity and character to their tone.
The OSD offers up all these classic sounds in Maxon's indestructible, industry standard 9-Series chassis. Modern-day utility features such as mechanical true bypass switching and a voltage regulator have also been added to provide smooth, consistent performance.
Over 30 years after the original OD880 was released, the OSD-9 promises to bestow the legendary tones of its predecessor upon a new generation of discerning players – are you ready?
TECH TALK:
The OSD-9 signal path starts with a 2SK246 jFET buffer which provides high input impedance and low output impedance into the 1st Op Amp - a UA741CP.  The UA741CP is a vintage style 741 single Op Amp with superior resistance to latching up (distorting in a non-musical way) – it is not as "precise" as modern IC's, giving it a more vintage, warmer, "analog-ish" response.  This 1st Op Amp is set up to provide a 20 to 120x gain in signal.
After the 1st Op Amp we have a pair of diodes to ground, just like classic boxes such as the MXR Distortion+, Pro Co Rat and Boss DS-1.  From here it's into another UA741CP with an amplification factor of 10 to boost the signal back to a high enough level to drive the input of an amplifier if necessary - a feature that the Distortion+ and DS-1 do not offer.
From here the signal is routed to a 4558 Op Amp unity gain amplifier, a volume control voltage divider, and then another unity gain 4558 to provide a low impedance output.
The OSD-9 uses a NJM2374A Voltage converter to stabilize the operating voltage at 9 VDC regardless of the voltage level coming off the battery, providing a smoother, more consistent operation and tonality.
The OSD-9 features Mechanical True Bypass switching via a Fujisoku 4PDT switch – the input of circuit is switched to ground when bypassed.
NOTE ON POWERING THE OSD-9 - this pedal's voltage regulator IC requires a high inrush current of approximately 2000 mA upon startup.  When using with a Power Brick such as the Voodoo Labs Pedal Power 2+, this pedal should be connected to a high current power jack when possible.
If it is not possible to connect to a high current jack, you can power the OSD-9 by leaving a battery in the pedal.  Upon initial start-up, unplug the external DC power input cable, engage the pedal, and then plug the DC power input cable back in – the pedal will now power up normally off the external power supply until you power down your pedalboard.
Input Impedance: 500K Ohms
Output Impedance: 10K Ohms or less
Maximum Gain: 41.5dB (700Hz)
Equivalent Input Noise: -107dB or less (IHF-A)
Control: DRIVE, LEVEL
Operating Voltage: 9V
Power Consumption: 14mA/DC 9V, 14mA/DC 10V
Dimensions: 74 (W) x 124 (D) x 54 (H) mm
Weight: 580g (including battery)
Battery: 9V battery (6LR61 or 6F22) x 1 or Maxon AC adaptor
Battery life: Manganese dry battery 17 hours 25deg C / 77deg F (Panasonic 6F22NB)
Alkaline dry battery 34 hours 25deg C / 77deg F (Panasonic 6LR61G)
Option: Maxon AC adaptor (Maxon AC210N for North America)* All specifications are subject to change for improvement without notice or obligation.