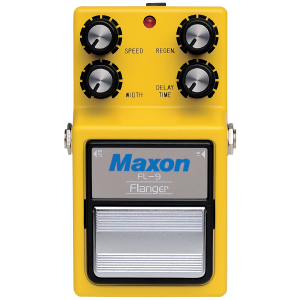 DISCONTINUED.  This pedal has been discontinued and will not be available again.  Thank you to those who have made the FL-9 Flanger an integral part of your rigs. 
Analog Flanger based on vintage 80's FL-9
Wide range of classic chorus and flanging effects
Panasonic MN3207 Bucket Brigade IC
Delay Time and Regeneration controls
Companding noise reduction circuit
True Bypass Switching
The analog signal path of the Maxon FL-9 Flanger pedal uses the Panasonic MN3207 BBD IC to create some of the richest, thickest flanging and time-delay effects possible. Rate, Depth, and Regeneration controls allow the user to dial in everything for shimmering chorus and vibrato to hollow, metallic overtones to thick, jet-like flanging sweeps. In addition to standard controls the FL-9 features a Delay Time knob that allows for a vast array of all-new spatial effects. Silent operation makes the Maxon FL-9 at home on the stage or in the studio.
"The Maxon FL-9 feels indestructible. The sounds are huge and rich, and the spectrum is broad - from subtle to extreme. And, as someone who loves the sound of jets, this pedal roars beautifully." - Gretchen Menn - www.gretchenmenn.com

photo credit: Diana Cordero
TECH TALK:
The FL9 circuit architecture is very similar to the CS-9 Pro, with the exception of a faster clock speed for the MN3207 chip, a mono output, and the inclusion of the "Regeneration" (feedback) control, which injects some of the Flanged signal back into the clean (pre-effected) guitar signal before it hits the first Compander chip. This gives the flanger its characteristic "howl" as it makes its way up and down the LFO sweep.
The FL-9 features Mechanical True Bypass switching via a Fujisoku 4PDT switch – input signal is switched to ground when bypassed.
Input Impedance: 500K Ohms
Input Jack: 1/4 inch standard phone jack
Output Impedance: 10K Ohms or less
Output Jack: 1/4 inch standard phone jack
Outputs: 1
Residual Noise: -98 dB or less (input shorted IHF-A weighted)
Delay Time: 1.0 mSec to 12.8 mSec
Speed Frequency: 0.03 Hz to 12 Hz
Controls: Speed, Width, Delay Time, Regeneration
Switch: Normal/Effect (true bypass configuration w/4PDT switch)
Power Supply: 6F22 9V Manganese dry cell battery x1 or Maxon AC adaptor
Power Consumption: 25 mA (9 V) or 25 mA (10 V)
Dimensions (whole): 74 mm (W) x 124 mm (D) x 54 mm (H)
Weight: 580 g (including battery)
Options: Maxon AC Adaptor (AC210N) Tip Negative/Barrel Positive configuration
Accessories: 9V Manganese dry cell battery x 1
Warranty Card: x 1
User's Manual: x 1
* All specifications are subject to change for improvement without notice or obligation.All brand names and product names are trademarks or registered trademarks of their respective companies.