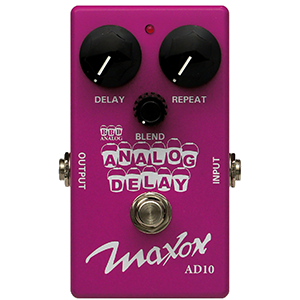 AD10 ANALOG DELAY
100% Analog Delay with 600mS delay time
Gorgeous, Warm, organic delay tone
Special filtering on repeats to reduce distortion
Capable of Self-oscillation effects
Works in FX loop or front-end of amp
Buffered Bypass Switching
The AD10 takes Maxon's 30+ years of experience in analog delay design and offers it up in one compact, WYSIWYG pedal.
The AD10 delivers up to 600 milliseconds of gorgeous, organic delay that doesn't get in the way of your original guitar tone.  Delay repeats are tuned to perfection with a subtle yet distinct distortion and none of the high-frequency whistle associated with over-clocking of the delay circuit. 
The AD10's minimalist control interface makes it incredibly easy to dial in a variety of usable delay effects including double-tracking, faux reverb, tight rhythm slapbacks, and longer delays for solos. 
The AD10 retains its distinctive sound even when stacked with overdrives and distortions.  It works equally well in the front end or the FX loop of an amp and excels at the runaway feedback self-oscillation that everyone now expects from an analog delay.
TECH TALK:
The AD10 features a low-impedance buffered bypass, allowing it to drive long cable lengths or other effect units without loss of signal.
Input Impedance: 500K Ohms
Output Impedance: 10K Ohms
Controls: DELAY, REPEAT, BLEND
Switch: Bypass/Effect
Indicator: Bypass/Effect LED
Equivalent Input Noise: -95dBu or less (Input shorted, IHF-A weighted)
Delay Time: 35mSec to 600mSec
Power Supply: 6F22/6LF22 9V battery x 1 or Maxon AC adaptor
Power Consumption: 30mA max. / 9VDC
Battery Life:
9VDC manganese battery 16.5 hours 25 deg C (FUJITSU 6F22)
9VDC alkaline battery 33.5 hours 25 deg C (TOSHIBA 6LF22)
Dimensions (whole): 70(W) x 113(D) x 56(H)mm (with protrusion)
Weight: Approx. 330g (incl. battery)
Accessory: 6F22 9V battery x 1, operating manual* 0dB = 0.775Vrms* Be sure battery is firmly connected to battery snap with the correct polarities.
* All specifications are subject to change for improvement without notice or obligation.  All brand names and product names are trademarks or registered trademarks of their respective companies.  All Maxon information current as of 2020.es.